The Harvard Club of the Palm Beaches

presents


John Browne on Brexit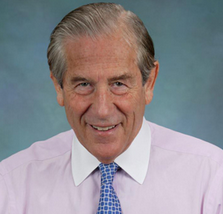 Our featured speaker is HBS graduate John Browne, a distinguished former member of Britain's Parliament who served on the Treasury Select Committee as Chairman of the Conservative Small Business Committee and as a close associate of then-Prime Minister Margaret Thatcher. He will update us on Brexit and its April 16 deadline for action. Mr. Brown has 40 years of experience in finance and international business and is a frequent guest on CNBC, CNBC Asia, Fox Business News, Fox News, MSNBC and Newsmax. He was Vice President of the United Kingdom Independence Party (UKIP) which triggered and won the Brexit Referendum.





A Welcome from Jeff Greene
The event will be held at the Tideline Ocean Resort on Palm Beach Island. The owner of this enchanting venue is none other than Harvard Club member Jeff Greene who will open the program with welcoming remarks.

Attendees will be invited to order drinks and appetizers, to be served on the ocean-view terrace or in the air-conditioned dining area.

Date: Wednesday, April 10, 2019
Time: 6:00 pm networking cocktails, 7:00 pm presentation
Place: Tideline Ocean Resort
Address: 2842 S. Ocean Blvd., Palm Beach, 33480
Parking: Valet discounted: $6.00 per car

There is no charge to attend this event.
Join us for Networking Cocktails at the bar prior to the presentation.
Please allow ample time should you want to enjoy dinner before the presentation (we suggest arriving by 5:30pm).
Everyone will receive separate checks.

Please help us obtain an accurate head count by completing the RSVP form below.

When:
6:00PM - 8:00PM Wed 10 Apr 2019 ( Timezone: Eastern )

Where:
Tideline Ocean Resort
2842 S Ocean Blvd, Palm Beach, FL 33480
Palm Beach, FL 33480 USA
[ Get Directions ]
RSVP Here...