The Harvard Club of the Palm Beaches
Presents
The Game
Calling All

Harvard

and

Yale

Alumni -
Join us for the watch party!

SATURDAY, NOVEMBER 20, 2021
12:00 PM - 3:30 PM

LOCATION:
Copper Blues Rock Pub & Kitchen
Inside & Outside Seating Available
550 S Rosemary Ave | West Palm Beach | 33401

Cheer on the mighty Crimson as they take on the fiesty Bulldogs,
in what promises to be another fantastic football classic!

There is no charge to attend this event.
The cost of food and beverage will be the individual responsiblity of each guest.
You must register to confirm your seat!
Space is limited, so please register if you plan to attend.
Deadline to register: Friday, November 19 by 5:00 PM
SCROLL DOWN TO REGISTER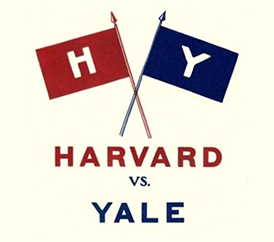 The Harvard Crimson and Yale Bulldogs matchup is one you won't want to miss!
This is the biggest game of the season for both teams, as the Harvard v. Yale rivalry is one of the longest running rivalries in American sporting tradition.
Don't forget to wear your Crimson colors!
Our friendly Bulldog rivals will be sporting Blue.
We ask out of respect for other members that you take proper precautions when attending in-person events. The Club suggests you be vaccinated for COVID-19 or wear a mask and observe social distancing protocols. By registering for this event, attendees will waive any and all claims potentially arising from any exposure to the COVID-19 virus related to this event organized by the Harvard Club of the Palm Beaches.
Questions? Contact Tricia Wansor, Club Administrator:

harvardclub.pb@gmail.com

or

954-914-3148
When:
12:00PM - 3:30PM Sat 20 Nov 2021, Eastern timezone

Where:
Copper Blues Rock Pub & Kitchen
550 S Rosemary Ave
West Palm Beach, FL 33401
[ Get Directions ]
RSVP Here...
Look Who's Coming:
Morris Goldings
Lawrence Levinson
Law Office Lawrence Levinson
Kevin Metz
gregory hornig
Select Title...
Diana Olney
Michael Vincent Spaziani
Michael Vincent John Spaziani, P.A.
Michael Galka
Roni Lawn
Stephanie Lefes
Sarah Bolon
Samuel Scott
Focusing Forward, LLC
gregory hornig
Select Title...
gregory hornig
Select Title...
Jose Sosa
HCPB
Lauren Rosecan
The Retina Institute of Florida
Gary Kollin
Gary Kollin, P.A.
edward smith
Angela Grant
curtis alva
YLS
PAUL WHEELER
Lauren Rosecan
The Retina Institute of Florida
Chris Nowinski
Concussion Legacy Foundation
Nicole Nowinski
Milan Kosanovich
Stephen D. Haymes
Kent Atkins
James Rubin
James Rubin
Howard Kaufman
Zachary Choquette
YALE
Raymond CORMIER
PAUL WHEELER
H Kent Atkins
H Kent Atkins
George King
Horsetree Glen Capital
wendy stahl
Michael Vincent Spaziani
Michael Vincent John Spaziani, P.A.
Carole Meade
Lisa Huertas
Yale Club of the Palm Beaches
Amy Alexander
Riccardo Boehm
Helen Clark
Cleveland Clinic
Kelly McKenna
Kenneth B. Smith
Mohit Mukherjee
UPEACE Centre for Executive Education
Howard Kaufman
Jeffrey Devers
Phil Byrne
Stephen Haymes
Investor attorney
Jessica Shapiro
Yale
John Bayne
Carolyn Potter
HC Palm Beach
Stuart Katz
Smart & Connected, Inc.
Brooke Fitzgerald
Ken Corhan
David Bokman
Bernie Schachtel
Amy Call
inna weintraub
Nikita and Raj Rao
None
Hugh Scott
Howard and Yana Levine
Second Horizon Capital
Michael Chrusch
Honorlock
Sarah Bolon
Jill Allen
Yale
Sherman Chamberlain
Sue Yao
Stephen O'Brien
MichAE & Maria Galka
Laercio Guimaraes
Sharon Seagren
AlgaePower
Rachel Siegel
State of Florida
Helen Boehm
HC of PB
Riccardo Boehm
HC PB
Lee Waite
Kevin Walsh
Ensemblex
Alex Tilt
Hal Valeche
Palm Beach County
Eli Giombi
Raymond Cormier
Self Employed
Matt Hedrick
Matt Hedrick
Michael Vincent Spaziani Jr
Michael Vincent John Spaziani, P.A.
Thomas Gentithes
n/a
Lynn Gentithes
Carlos Delhumeau
CDITech Solutions
Alexandria Barnett
Year
Joe Connolly
Michael Meade
Judith Ray
Jack Cooney
Ray Johnson
Exit Experts, LLC
Lauren Rosecan
The Retina Institute of Florida
Jane Sullivan
Retired
Liz Herbert
Forrester
Roni Lawn
... a total of 96 guests.
Note: to opt out from this list please sign in, go to My Account and change your preferences under My RSVPs.