Harvard Club of the Palm Beaches
will be discussing (via Zoom)

"Mountains Beyond Mountains:
The Quest of Dr. Paul Farmer, a Man Who Would Cure the World"
by: Tracy Kidder AB '67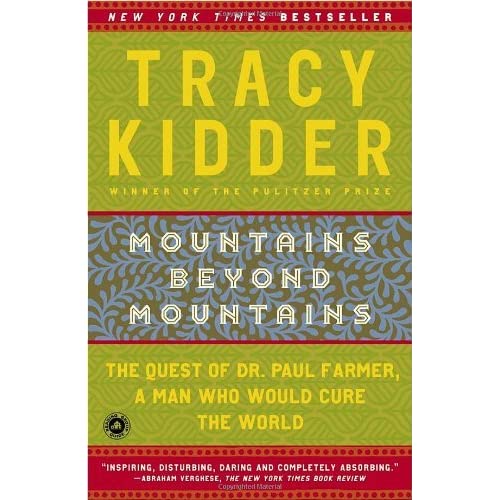 This biography describes the remarkable life of Dr. Paul Farmer (MD '88, PhD '90). Professor Farmer's obituary at Harvard.edu says of this book, "…. The book followed Farmer from Harvard to Haiti, Peru, Cuba, and Russia, describing, among other things, how he exported treatment for multidrug-resistant tuberculosis from Haiti to Peru and then to Siberia, achieving cure rates comparable to those in the United States. Because of Farmer's efforts, Haiti saw higher rates of vaccination and lower rates of infant mortality and malnourishment in areas where PIH [Partners in Health] was active…."

Before his untimely death in February, Professor Farmer was Chair of the Department of Global Health and Social Medicine in the Blavatnik Institute at Harvard Medical School. The Pulitzer Prize winning author, Tracy Kidder (AB '67), is known for his reportorial work including "Soul of a New Machine" and "House."

Because we wish to keep the discussion intimate, and to allow all members to share their thoughts, we will have a 25-person RSVP maximum. If you cannot register on the website, please email the Club Administrator at harvardclub.pb@gmail.com to be placed on the waitlist.

While reading, please consider a question or observation that you would like the group to discuss and bring it to the meeting!

Genre: Reportage/biography
Formats: hardcover, paperback, Kindle and Audible
Length: 332 pages (hardcover)

Tuesday, June 7, 2022
6:00 PM
(Zoom information will be sent in advance)
There is no cost to attend this event and a plus-one is allowed
but registration is REQUIRED to receive the Zoom link.

SCROLL DOWN TO RSVP
Questions?
Please contact Club Administrator, Tricia Wansor: HarvardClub.PB@gmail.com or 954-914-3148.
When:
6:00PM - 7:00PM Tue 7 Jun 2022, Eastern timezone

Virtual Event Instructions:
RSVP Here...